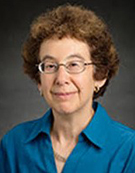 Deborah Levin
Professor, Aerospace Engineering, University of Illinois at Urbana-Champaign (2014-Present)
Professor, Aerospace Engineering, Pennsylvania State University (2000-2014)
Prof. Levin has distinguished herself as an international authority in the multi-disciplinary research area of modeling and simulation of energetic chemically reacting flows with approximately 145 refereed, 200 conference papers. Her broad research interests include a range of subjects related to modeling chemical reactions and spectral radiation from hypersonic flows, space propulsion (ionic liquids) and spacecraft contamination (sputtering due to electric propulsion devices), porous, charring thermal protection materials, and particulate flows in atmospheric electrostatic discharges. Her most recent research thrusts involve the development of kinetic, particle-based algorithms to model weakly ionized plasma flows through porous media, fully kinetic direct simulation Monte Carlo (DSMC)/ particle-in-cell (PIC) algorithms on unstructured grids, and laminar shock-boundary layer flows in CPU/GPU peta-scale environments. In her studies of transitioning flows undergoing LSWBLI she has been the first to couple kinetic particle gas dynamic approaches with linear stability theory and data-driven methods. A dedicated educator, Dr. Levin has taught approximately 1,000 undergraduate students since 1998 in courses spanning freshman Chemistry, Spacecraft Environments, Physics of Gases, the Fundamentals of Fluid Flows, Numerical methods, and Rocket propulsion. She has graduated 15 Ph.D and 16 MS students in Aerospace Engineering, some of whom have won awards and gone on to positions of significant responsibility. Professor Levin is a fellow of the American Institute for Aeronautics and Astronautics. She is the past chairman of the AIAA Plasmadynamics and Lasers Technical and is a past associate editor for The Journal of Thermophysics and Heat Transfer. She co-chaired the 27th International Symposium on Rarefied Gas Dynamics and is a member of the International Advisory Committee.
Exploring the physics of multiscale flows at the molecular level
There is a general consensus in the hypersonics and aerospace plasma research communities that the coupled gas dynamic and thermochemical mechanisms that drives these systems requires a molecular approach. In the last few years, particle and kinetic approaches, such as, direct simulation Monte Carlo, molecular dynamics, and particle-in-cell, have begun to offer new insights into a wide diversity of complex problems. Examples of these include rarefaction affects in unsteady shock-boundary layer interactions, design of novel thermal protection materials, the electron kinetics of space plasmas, and new ionic liquid propulsion concepts. In the spirit of the Graeme Bird Lecture, computational challenges related to the large variations in length and time scales as well as possible solutions will be explored. For example, the use of new enabling, computational algorithms that take advantage of massively parallel, heterogeneous hardware environments, and, where these computational assets might take us, will be discussed.